Plates, Brunch, Drinks & More
See What's New at The Grille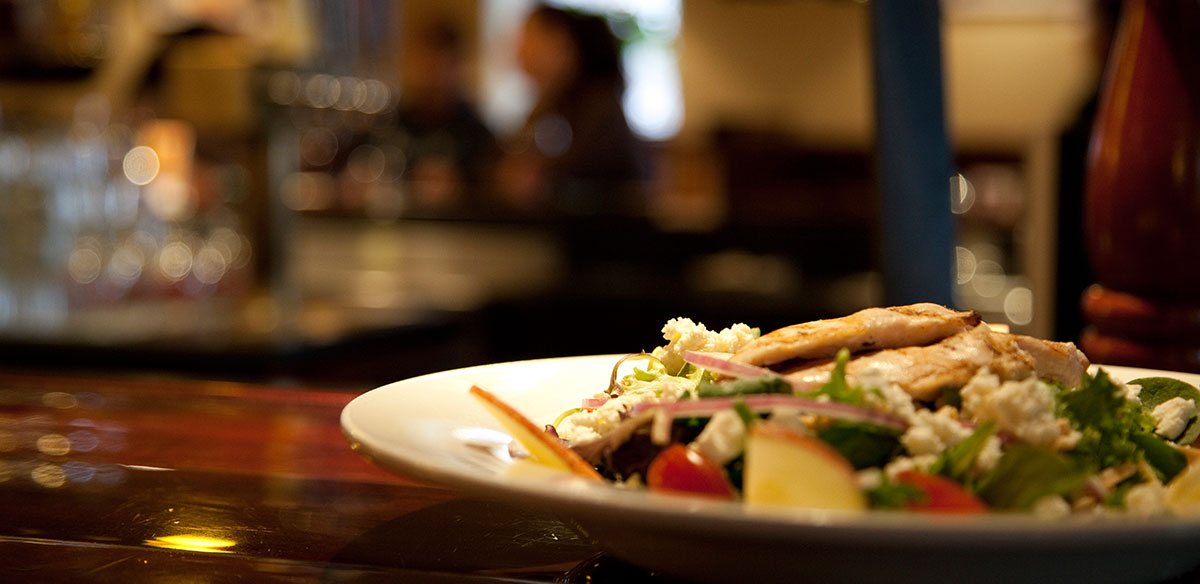 Indoor Dining Reopens
Indoor Dining Reopens! Come on in and see us! Hours are Monday thru Saturday 11am to 9pm and Sunday 11am to 7pm.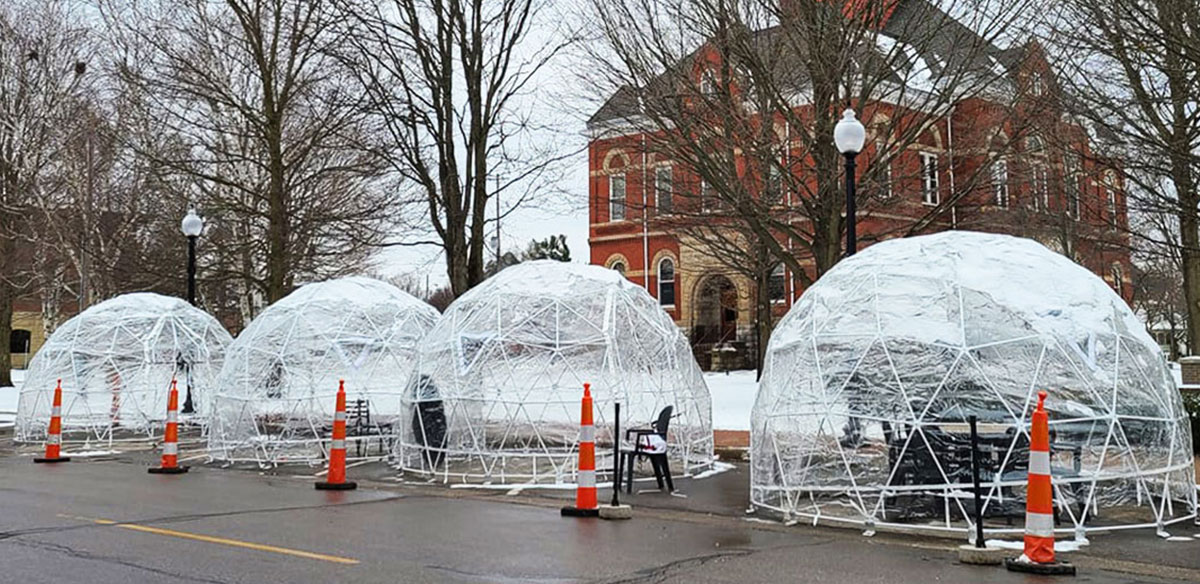 Outdoor Igloo Dining
NEW! Outdoor Igloo Dining Downtown Hastings MI! Each Igloo seats up to 6 guests, reservations required M-SA 12pm, 2pm, 4pm, 6pm, 8pm SU 12pm, 2pm, 4pm, 6pm, $10 propane fee, and the Igloo is yours for 1.5 hours. Join the fun and Igloo Dine with us!
Online Ordering, Take Out & Delivery
You can order all your favorite Seasonal Grille dishes online! Available as Take Out and Delivery! *10 mile radius from our restaurant, downtown Hastings.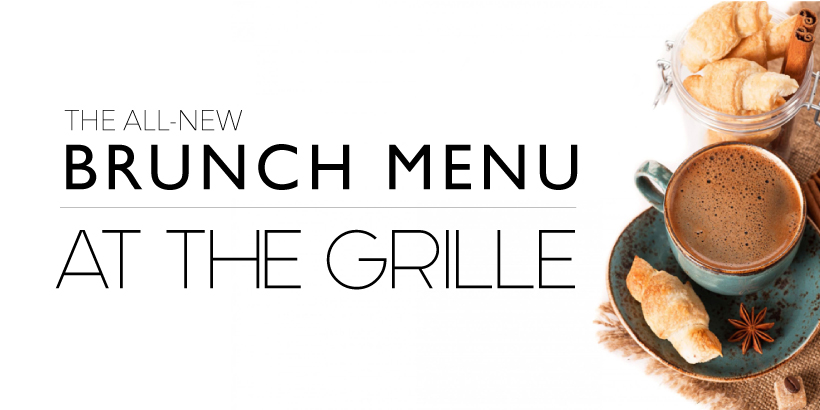 Sunday Brunch Menu
Join us Sunday's for Brunch! Sunday Brunch is served every Sunday from 11am – 2:30pm.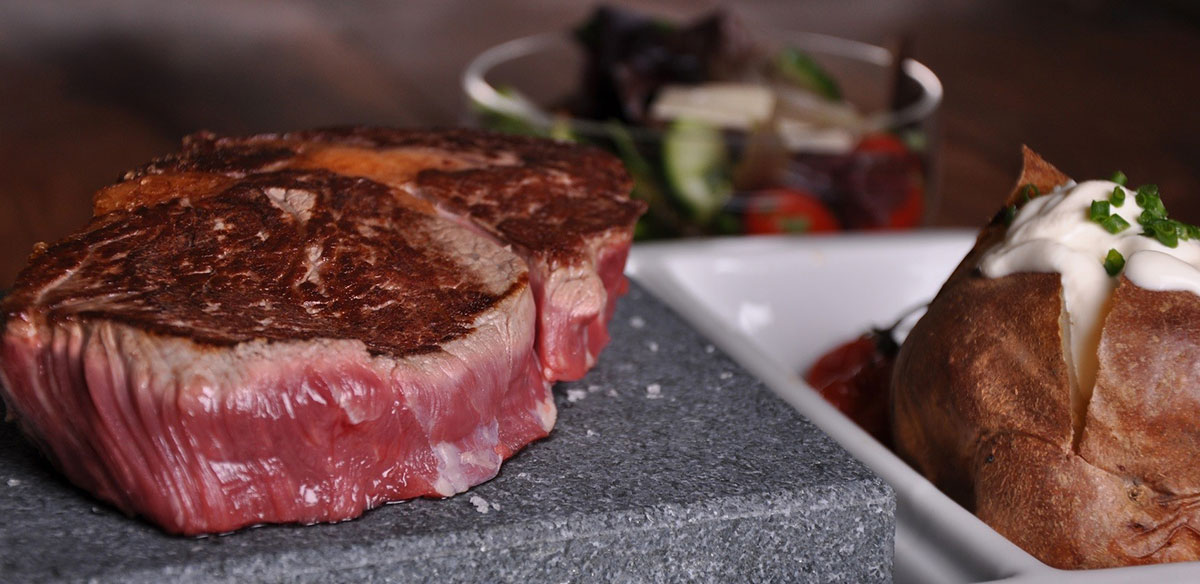 Black Hot Rocks Grill
All of our "Rocks" items are served seared rare on our Black Hot Rocks so you can prepare your way!
The Pittsburgh Cheesesteak was excellent! The server was excellent (thanks Kat A.). She was attentive and did not rush us which gave us lots of time to catchup on life.

Sandy D


12/26/2020

Great food, prices, atmosphere and service make this a real gem. From beginning to end we totally enjoyed the Seasonal Grille. The pork shank was superb - perfectly cooked with... read more great gravy. The scallops on the "rock" were perfect and fun. Lasagna was the special that evening and was delicious. Our fourth diner had the "rock" surf and turf that was a delicious sirloin and shrimp. Finished with a raspberry torte that perfectly complimented the evening.

EdCunn50


10/14/2020

My fiance' and I used Seasonal Grille as the caterers for our wedding reception, and it was an excellent choice. From the first contact through the final product, everything went... read more beautifully. Justin is extremely easy to deal with, and he delivers as promised. He and his staff exceeded our expectations in every area! We received many compliments on the quality of the food. We would highly recommend Seasonal Grille!

FlyGirlMichigan


8/28/2020

The appetizers are too good and we have many time just ordered three or four and made that our meal, Tapa's style. The new "Rock" menu is also out of... read more this world.
In short if you like good food this is the place you won't be disappointed.

williammN6028JV


7/25/2020

I tried the Shaver Burger made with Waygu beef. It was delicious and I would order it again. Seasonal Grille is located in quaint downtown Hastings, which is especially beautiful... read more during the holiday season when Christmas decorations are hung.

V2952PIsteves


12/11/2019

Several kinds of hamburgers to suit every taste, along with full dinners such as halibut, other fish varieties, several meat dishes, a variety of veggies... something for everyone. The salad... read more was fresh, crisp, and cold; nice. Risotto with mushrooms - yummy. Try the onion fries, very good.

Service was prompt, food was delicious, and parking at this location across from the court house was easy. This restaurant has a full bar, separated from the restaurant booths, and is an old world look, nice atmosphere.

GoThere88


10/23/2019

We had an amazing experience at the Seasonal Grill on Saturday, October 5th. There was a group of 16 of us and we had to be out in 2 hours... read more to attend a play at a local theatre. There were appetizers and wine waiting for us in a private room. Ed, our server, was very attentive and provided exceptional service. Food was delivered promptly with time to spare. We will be back! Thank you for a wonderful evening!

BCLOH2019


10/07/2019

As residents of the city, we've eaten here a few times and have usually been impressed with the food. The service, however, has never been memorable.

Our latest visit,... read more unfortunately, was a complete disappointment. I will not get into all the details, but will explain the issues we had with one of our meals but, more importantly, with the service.

My wife and I had stopped in after the normal dinner hours for an impromptu "date night."

We ordered the Crab & Feta Dip as an appetizer (which was amazing). For our dinners, my wife ordered the seafood combo "hot rock" dinner (which sees scallops, shrimp and ahi tuna served on a hot rock for us to cook ourselves). I ordered a gorgonzola steak (which is supposed to be "stuffed" with gorgonzola and wrapped in bacon). I ordered this steak medium.

This is where our troubles began. My wife's food came out raw, which was expected, and we proceeded to cook it ourselves using the hot rock provided.

However, my medium steak arrived completely rare, nearly raw. This is not something I am usually upset about; I'll simply ask the server to bring it back and have it cooked a bit more.

Unfortunately, our server did not return to check on the table for about 10 minutes, after my wife's food was already cooked and half eaten.

At that point, I informed the server that I had wanted medium but the steak was still quite rare. I politely asked her to have it "cooked up" a bit and return in a "to-go" container.

She agreed to do so but offered absolutely no apology at all. She took my plate of bloody meat and headed to the kitchen.

It was at least another 8-10 minutes before she returned again, dropped off a "doggy bag" with my steak and walked away. The steak was now very well done and did not have any of the fresh gorgonzola cheese that the original meal had come with.

Several minutes later, she again returned and I asked her if I could get a slice of the gorgonzola that I had paid for and she said she would get that. She returned a few minutes later with generic bleu cheese crumbles she undoubtedly retrieved from the salad station.

Again, all of this with absolutely no apology for my poorly-executed $26 steak.

When the check finally arrived, I was shocked to find that no adjustment to the bill had been made. Nothing had been offered. And the server had still not offered a single apology to the customer who had sat at her table for about an hour and not had an edible meal.

I have worked as a restaurant server for 20+ years and am far more lenient than most other customers a waiter/waitress will encounter. But this is the 3rd time I've ever left less than a 15% tip.

I do not blame the waitstaff for bad food or mixed up orders, especially when it's a busy hour. However, this was after the dinner rush (maybe 4-5 total occupied tables in the store at the time), and the communication from the server was completely absent.

A simple apology at the moment her customer had an issue with the food would have ensured over 20% for her tip. But the indifference that is tolerated at Seasonal Grille has guaranteed we will never return.

zephyr228


9/15/2019